CLICK ARROWS TO VIEW MORE ^
THE CLIENT//
Brand Cycles are Surrey's No.1 local bike retailer. They combine strong customer service & extensive product knowledge to provide a high-end store & web based service to their customers across the UK. They market online & offline and have a very well established brand locally.
THE CHALLENGE//
With a need for growth, in an ever-expanding competitive market, how could Brand Cycles improve the performance of their website & increase their web-based sales?
This was the question Brand Cycles posed when they approached us in August 2015. Their website was under-performing, and going against their monthly outlay with their previous design agency, it was dramatically affecting their bottom line.
OUR SOLUTION//
We created an easy to manage, modern, content-managed e-commerce website, incorporating a new fresh look to bring their branding forward and reflect the stature of their footing.
We looked in depth at their previous user experience & improved it in every aspect. It's now responsive, easy to navigate & is strategically formatted to promote maximum sales.
Alongside, we developed a content managed, e-shot template to provide full control over their monthly mailers, a door-to-door print marketing campaign to enforce their presence online locally & we picked apart their social media presence to ensure top post reach. To support the launch, we created a Christmas themed competition that worked seamlessly between website & social media platform, whereby those who entered the competition could win a 'mystery bike' by liking, sharing and commenting on the competition thread, with the winner announced on Christmas Eve.
THE IMPACT//
Within two days of launching the new site, it had generated more sales than in all 3 years previous to it going live. That's a sales increase of 1100% (and still rising by the day).
At the time of the launch their social media presence had increased by 76.5% & the Mystery Bike Competition performed 2684% better than any other post to date on their Facebook.
This has engaged a new higher gear in the motivation of the Brand cycles team, it's inspired growth and brand control & consistency have improved.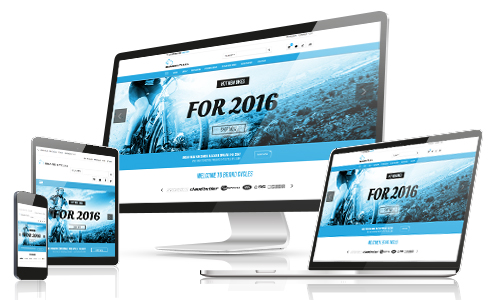 WHAT DOES OUR CLIENT SAY?//

"We have been working with Corinium Creative since August 2015 and to say excellent would be an understatement. Their designs, communication, attention to detail & level of care are exceptional. Our old company took forever to get things done & had no desire to help, Corinium Creative far surpass them in every way. They are on the ball, work to deadline & are great fun to work with. Our old website did not perform well at all, but our new website has made more sales than the past 3 years put together in the first 2 days of it going live! Thanks Corinium Creative & we look forward to what the future brings."

– NICK BRAND/ OWNER, BRAND CYCLES//