CLICK ARROWS TO VIEW MORE ^
THE CLIENT//
Armstrong Fitness are a UK based fitness company providing high end personal fitness training, generic & bespoke fitness programs and nutrition plans within the health & fitness industry. They work with hundreds of clients, to achieve their individual goals, be that sporting achievement, injury rehab or general health and fitness.
THE CHALLENGE//
Having developed a new 12 week personal fitness program aimed at both males & females, Armstrong Fitness required assistance in correctly placing themselves and their products within their market place, online & offline.
OUR SOLUTION//
We analysed their competitors, paying close attention to what's working in today's health & fitness industry in the UK and abroad & came up with a fantastic new identity full of energy and dynamism. We took in to consideration how colour alters perceptions, mood & motivation & included a vibrant, premium colour pallet to run throughout.
With Armstrong Fitness' strong new identity, we developed change across the brand including a content managed, e-commerce website, a comprehensive 12-week 'focused' fitness program design (for print & web) & a 56 page 'focused' exercise instructions booklet to run alongside the program. We coordinated a photoshoot to include on-brand photography throughout & provided art direction to ensure consistency.
We also sourced industry standard protein shakers from Germany & production for output at a competitive price point, branded t-shirts & the exploration of other merchandise & branded equipment for the future.
THE IMPACT//
Armstrong Fitness are correctly placed within their market place, with style. They now stand up against the giants and have a strong footing to compliment their extensive knowledge and top-quality, premium service.
They have strict brand guidelines to follow & this coupled with their modern fully content managed site allows full control over direction & growth and ensures brand consistency.
Armstrong Fitness are now equipped to provide their services from every aspect & have seamless connection between one-to-one & online, distance-based clients.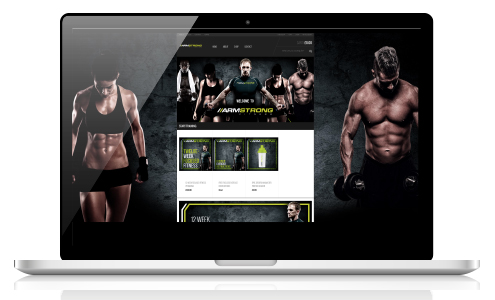 WHAT DOES OUR CLIENT SAY?//

"As a personal trainer I was looking to expand my business online. After meeting with Corinium Creative I realised how important my branding was & that I would need a high quality web site and premium branding for my products to stand out in the crowd.

Corinium Creative have exceeded all of my expectations within every aspect of their services, I very much look forward to working with them in the future as my business expands."

– PETER ARMSTRONG/ DIRECTOR, ARMSTRONG FITNESS//